Happy Constitution Day of Ukraine 2020
---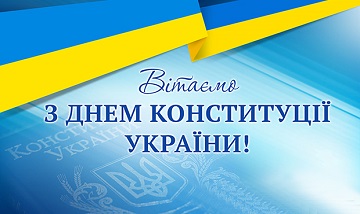 Congratulations on your outstanding national holiday - Constitution Day of Ukraine!
Let this solemn event, which opened up broad opportunities for Ukrainian citizens to comprehensive development, personal self-realization, create opportunities for the consolidation of the national consciousness of the people, their consolidation on the basis of civil society, fill you with life-giving force, inspiration, encourage innovative ideas and their successful implementation in the professional field .
We wish you success and fruitful work for the benefit of the Ukrainian people. May peace and harmony contribute to the further development of the rule of law in our country.
We remind you of the holiday schedule: The company's offices will not work on June 29th. Technical support will work in standard mode from 8:00 to 21:00.
Sincerely, LimaNet❤️
---